By Adam Ackroyd on 03 November 2020
Rooftop walkways are required on the majority of Building Services projects for a safe way of passage around AHU's, Chillers etc. and for maintenance access.
Sikla have been working on the development & design of these prefabricated walkway systems for many years (within Europe and most recently also into UK projects). So why has it been a success? Why should you build a prefabricated walkway system with siFramo? Because it makes your planning easier and it brings flexibility onsite! I will show you how, keep reading.
Maximize the Offsite concept with Design & Prefabrication
The benefit of a walkway from Sikla lays within the Modular Steelwork – SiFramo! This lightweight beam section and components are delivered to site cut to length, in flat pack condition and palletised ready to be lifted to the roof. A fully designed manufacturing drawing is issued by Sikla to the customer which highlights where each length of siFramo beam section and component is required.

Below is an example from a recent project:

Front View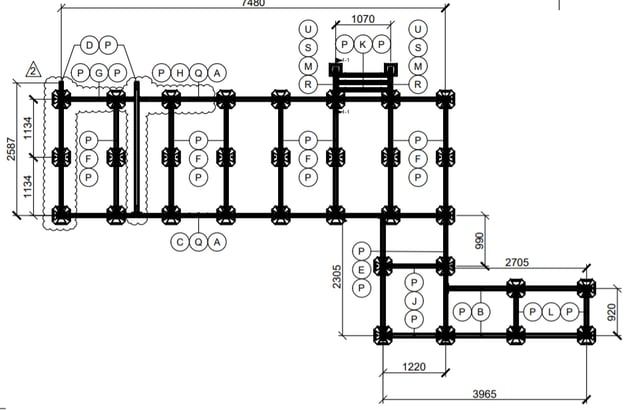 Plain View
The Sikla walkway option takes away any need for multiple deliveries of large vehicles to site, and in most instances only a couple of deliveries would be required (walkway size dependant).
Supports & Connections
The walkway can be supported on either:
End Support WBD,which allows for the walkway to be anchored into the roof
Insulated Foot SQF, which allows for the framework to be freestanding on not penetrate the roof membrane.


To complete the walkway, GRP flooring or Steel flooring can be easily incorporated to the siFramo system. These are all connected with the use of our off-the-shelf FLS self forming screw.
GRP flooring can be secured to the beam section using the relevant 'M' Hold down clip with an FLS screw. Other options to hold down the flooring are our Floor Grating Kit GRB.


| | |
| --- | --- |
| | |
| Connecting baseplate to siFramo using M10 FLS screws | Floor Grating Kit GRB |

To complete the walkway, a handrail system of choice with kickplate can be incorporated also, and this uses the same connection screw – FLS! No need to route around for nuts, bolt and washers – this tiny screw is all you require.
Take this example: do you face similar challenges?
Over the past few months, we have supplied a different type of walkway.
Our customer had a problem where they had to gain access to valves and tank entrance, but required a purpose made access route. The site team were unable to carry heavy traditional steel through the already busy site, so they turned to Sikla for a solution.
Sikla supplied our siFramo in purposely cut lengths, completed with structural analysis report to prove integrity of the product. The site assembled the walkway from our manufacturing detailed drawings. The platform was secured into the 4 concrete walls, using our WBD End Supports and GRP incorporated with M clips and FLS screw for connection. Below is a picture or 2 of the finish project:
The platform was installed as close to the maintenance area as it could be, meaning Sikla had to look to incorporate a step down. If you look closely at the first picture from the bottom corner, you can see that 2 steps were incorporated into the design allowing smooth transition from designated walkway to the maintenance area.
Conclusion
The above is an example of how the Sikla siFramo system can be incorporated at the last minute for those hard to reach areas, and often as an afterthought, but to integrate siFramo at the early stages of your project it will be easy to understand why the system should be at the forefront of design over traditional steel.
When it comes to rooftop supports, with the already excessive weights on the roof, the last thing that is needed is further excessive weight from traditional steel. siFramo has all the benefits of traditional steel but with weight saving, no hot works and one type of connection required.
Interested in Sikla as your prefabricated walkway system supplier?
Leave us a comment with your contact details and enquiry or contact our team!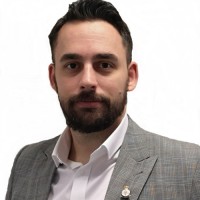 Written by Adam Ackroyd
Business Development Engineer (Building Services)