By Adam Ackroyd on 04 August 2020
Following on from my article – siFramo for DfMA & Offsite Manufacturing – this raised much interest and further queries from those who specialise within this area. This article will aim to answer those questions and put forward further emphasis on why siFramo should be thought of first and foremost within the design stage for DfMA & Offsite Manufacture.
Before I begin, I want to echo a statement I mentioned in my previous article – this isn't me trying to sell siFramo, this is me putting forward my beliefs in the product given my 10+ years experience in Offsite Manufacturing and highlighting the suitability and benefits it brings.
Designing with Sikla vs Traditional Frame Design
Throughout Offsite Manufacturing, the general go-to application when designing and manufacturing plantrooms/pump skids/ Riser box modules etc. is to look at traditional steel based on past project experience.

A traditional frame design and fabrication generally goes through the following stages:
1. A Structural consultant is assigned, to confirm suitability.
2. A frame fabricator is employed (unless there is one inhouse)
3. Once fabricated, the frame may need coating, to suitable protection level according to the environment.
4. Cost if multiple frames assembled, incurred for each delivery, to the galvanizing unit and back.
5. Back in the Offsite Facility, the fit out of the frames begins. This often requires to drill the nicely coated frame to add additional internal supports!
With the Sikla siFramo system, all these issues are addressed in-house allowing one point of contact throughout.
In house Engineers use software called RSTAB which will review the stresses on each part of the siFramo system and are able to make alterations where required.
Sikla modular steelwork system can be assembled by your own operatives, or if required, can be carried out at Sikla's facility by Sikla operatives (I will go into more detail on assembly time in this article).
The siFramo product is already coated up to C4

protection

, and if required, can be coated up to C5 prior to delivery to your facility. (Take a look at our HCP article HERE to find out further details).
All parts can be delivered separately, on pallets to keep components together.
siFramo has a large number of components that are able to be connected to the beams, with the beams themselves having holes on each side to allow flexibility in location of component connections.
Channel (or Strut) will always be a major part of supporting lightweight services within the building services sector, which is why Sikla has a component used to integrate strut. No need for extra on-site drilling for threaded rod to be connected to support the channel.


Speed of Assembly

It is difficult to try and justify how much quicker assembly using the siFramo system is compared to traditional steel, but we do have a short video which can be viewed in terms of cutting of the product, and assembly time can only really be justified by yourselves and your operatives.



The siFramo beams can be pre-cut in the Sikla warehouse as per the manufacturing drawing produced by the Sikla team, or as the video shows, this can easily be carried out by the OEM. Here is further insight into the product that may give you an idea.
The siFramo system is made of 3 and 4 mm thick steel beam section, consisting of strategically engineered hole placements on each face. This allows every component within the siFramo system to be located anywhere along the beam that suits customer requirements. These components are fixed with an M10 Self Forming Screw, so there is no need for drilling or handling nuts, bolts and washers. The Self Forming Screw is applied using an Impact driver and will form a thread through the required hole. If a mistake is made and this component is located in the incorrect position, simply unscrew and replace the component.
We have a detailed article on our Self Forming Screw (FLS) which can be found HERE
siFramo beam weight



When reading the above, you may be thinking to yourself:
"If this product is to be compared to traditional steel, we are going to need cranes available to manoeuvre long lengths around in order to assemble these frames – how can this be modular and save time?".

That thought wouldn't be entirely correct. The siFramo beams are up to 50% lighter than traditional steel and in most instances, pieces can be carried and positioned by a single person. We have carried out a weight study on the siFramo Product over traditional, and although this wasn't within the DfMA sector, it gives you an insight into the potential weight savings on a project. Details are below: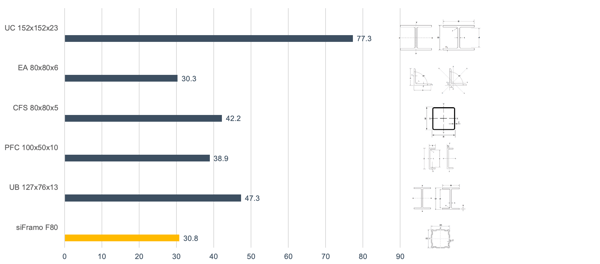 The weight saving and the strategically positioned engineered hole placements do not affect the capabilities of the beam in terms of the load it can carry – we look at this in more detail in the next section.
Example of siFramo weight supporting capabilities



If we look at our 80x80x3 siFramo beam section, over a span of 3m with a distributed load, this beam section is capable of supporting up to 5.60kN – or 1.87kN/m. As a point load over 3m, this beam is capable of supporting 3.5kN. Further loadings of the F80 beam section can be found below, with our full technical data found HERE


Are you and your team interested in learning more about the Modular Steel Framing System siFramo?
Let us know! At Sikla we frequently run a Webinar about the siFramo system as we are available to offer your staff and engineering teams a CPD training about it!
Additionally, you can follow our most recent articles - about this and other topics - simply by subscribing our monthly newsletter.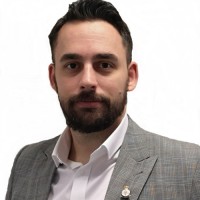 Written by Adam Ackroyd
Business Development Engineer (Building Services)