By Sikla UK Oceania on 04 May 2020
What was the initial goal of siFramo when it was launched? Find the answer in a new series of articles now kicking off. Discover relevant details of the siFramo system that can tell you whether this solution is suitable for your project or not.

Hot works

, drilling and heavy lifting
Nearly 15 years ago Sikla introduced the first generation of the 'siFramo' system, at the time a unique substitute for welded secondary steel. By then it was the only technically acceptable alternative to welding, when supporting pipework and cable containment beyond the load capacity of what is still commonly referred to as 'Unistrut'.

As it was to be expected, the siFramo product system established a new sub-market within the niche supplier landscape of M+E support systems manufacturers. In particular the response from some long-standing, branded, Sikla rivals has been inspiring and has helped to transform the end-users' perception from initial scepticism towards a now predominating acceptance that modular steel systems, where they have their place, must be used for the sake of efficiency.



UK first siFramo project (2007): Stansted Airport Expansion (STEX), installed by MACE comprising a total MEP frame with walkway
"Generification" of Modular Secondary Steel
In recent years we have entered another stage within the evolution of modular secondary steel: 'generification'. The process itself is unstoppable and its positive effects, such as triggering streamlining and re-launch-innovations, outweigh the negatives, for example the jeopardization of an original idea.
Generification can mutate the purpose of an original innovation to the point of absurdity. The cheap 'Hover' that spreads dust instead of sucking it in springs to mind. The equivalent of this in the world of modular steel would be the supersize bolted steel frame that is cheaper than siFramo, or other branded systems, whilst structurally weaker than a back-to-back Unistrut and supplied with load data that can only be used when the structures are welded.
Remember – avoiding hot works was THE first and foremost reason for developing siFramo.  
10 Relevant siFramo Details to be Aware of
Unfortunately, such systems have arrived for a while. It is therefore time for a reminder what the actual points of a modular secondary steel system are. A couple of months ago we posted 10 such key points on LinkedIn and asked our followers to check whether systems, that are proposed as an alternative to siFramo, meet these requirements.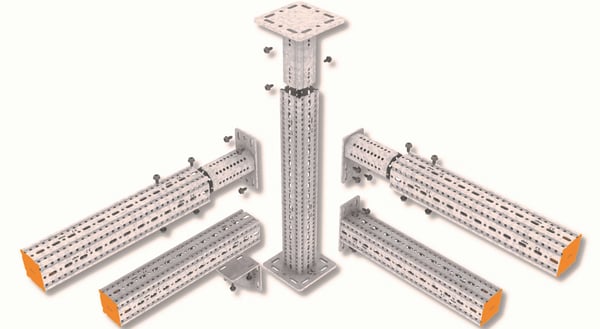 We will now publish 10 sequential articles that will give you the opportunity to qualify those technical details in more depth. Why are they so important? What if these features are being ignored?
Follow this blog over the next weeks: we will answer those 10 questions in detail, using calculations and illustrations.
Subscribe our newsletter and be up to date with our most recent blog articles.