By Sikla UK Oceania on 19 April 2022
Evonik Animal Nutrition's division and Sikla's team in Germany successfully cooperated to bring together the construction of an innovative pilot project. This exceptional project included the concept, design and implementation of a mobile modular chemical plant, made out of siFramo.
Evonik is a leading global speciality chemicals company, and its Animal Nutrition division develops solutions to feed animals healthily, efficiently and sustainably. This partnership with Evonik was certainly motivating, not only due to all its technical challenges and innovative scope but also due to the benefits it will finally bring to the environment and sustainability causes.


"In order to supply our customer with safe, healthy and innovative animal feed solutions, our aim is to permanently develop and optimize our production processes in terms of efficiency and sustainability."


Martin Koestner




Head of Innovation and Technology, Animal Nutrition, Evonik

What was the project scope?
The visionary task was to design a modular chemical plant based on the sea containers concept. The aim was to:
Reduce downtimes with two mobile chemical plants based on the modular principle

Cover additional production requirements

Implement plant adaptations efficiently and quickly at short notice

Promote standardisation
Ultimately, the mobile plants should be globally deployable at any production site!
The Challenge: prefabrication and transport requirements
The mobile chemical plants should be prefabricated at a predefined location, and fully functional to be put into operation immediately at the production site. In addition, the plant had to be designed in terms of dimensions and weight so that it could be transported in normal road traffic without the need for special transport.
Loading the frames onto a truck
The mobile chemical plants were built vertically and all relevant values were designed by our engineering team having in mind the offsite concept and requirements of loading, transporting and relocating. These included statics and technical mechanics such as total weight, crane loads, tilting moment, tension loads, dynamic loads and load distribution.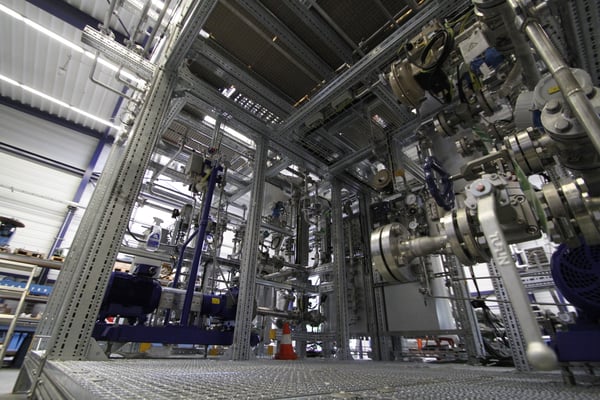 Frames of the pilot project "OneCycle" - First mobile chemical plant in modular design
Our Solution
The flexibility of the unique modular steel system siFramo with the One-Screw Technology enables the efficient construction of mobile chemical plants in a modular system. With the siFramo profiles F 100/160 and F 100 and the total modularity, we achieved stability and flexibility with significantly fewer interfaces.
Thanks to the innovative connection technology, a stepless secure adaptation is possible at any time, which also allows unrestricted adaptation to the customer's needs even after installation. This means that the frame's peripheral systems can be adapted and adjusted to any local conditions. In particular, the modular design impresses with a faster overall construction and assembly time, as no welding is required during assembly.
Frames of the pilot project "OneCycle" - First modular mobile chemical plant

Internal rapid response, efficiency and expertise as well as constant close coordination with Evonik in a spirit of partnership were the reasons for the successful preparation of a feasibility study and the success of the project.
Final outcome: watch this impressive video!
With the use of the multifunctional siFramo assembly system, the pilot project of the first mobile chemical plant could be turned into reality. The modular design reduces the assembly time for the base frame as well as the overall construction time of the plant.
Mobile chemical plants made out of siFramo: what are the benefits?
Speed and efficiency in assembly

Total flexibility: any adaptation possible

No need for welding

Planning reliability for the customer

Global applicability due to simple transport logistics

Efficient reaction to temporary additional requirements within a production facility

Reduction of downtimes and resulting production losses
Would you like to know more about this installation and how to apply similar principles to your project?
Please feel free to contact us at any time.
---
Thank you Julien Bojahr for providing us with the original article on Sikla's Germany page.