By Nigel Thompson on 01 June 2020
Sikla UK recently began a blog series about 10 key points you need to know concerning our modular steel framing system, siFramo. In this article, you will have a detailed explanation of the second of these 10 topics: are small parts safe against confusion, vibration and wrong application? What makes the siFramo system so unique? Believe it or not, it's the smallest part of the system: the screw!
Modular

steel

easily assembled with a

Self-Forming

Screw
The siFramo system is easily put together with each connection needing a single type of screw.
Comparing to generic channel systems for example (something not usually comparable to a more heavy duty system), you often need to consider two elements: spring nut with variable spring lengths (short and long) and then what thread maybe needed to make a connection, this could be as small as M6 or as la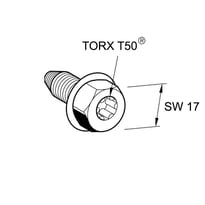 rge as M16.
With the siFramo system, only one type of screw is required for every connection (different profile dimensions and load ranges) thus eliminating any confusion about what is needed to make the connection! Sikla FLS Self-Forming Screw, as an innovative connection technology, simplifies the assembly, reduces its effort and saves time and costs.
So

,

what makes this FLS screw so

Amazing?
The FLS screw as we call is a Self-Forming screw which creates its own thread inside the wall of the siFramo section, in one of the available non-threaded perforations.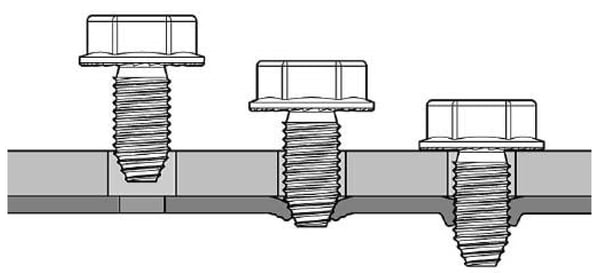 When installed with an Impact Driver (the preferred method of installation) the steel is re-shaped and hardened to form an air-tight seal between the screw threads and surrounding steel of the siFramo section.
This makes it exceptionally resistant to becoming loose from vibration for example and increases the strength of this type of fastening and is made from a very high grade of steel.
The next video (starting at 1:47) illustrates perfectly the FLS screw application and emphasises ease of installation and the benefits of being a shake proof fastening.
The challenge of low temperatures
The combination of low external temperature and dynamic effects caused by sudden stress, for example when starting up the system, usually presents ordinary screw materials with an unsolvable challenge.
Sikla's Self-Forming Screw FLS is also suitable for this extreme context: its material is very tough at temperatures down to - 80 ° C, basic requirement for a screw material to be suitable for dynamic effects in the low temperature range. This excellent suitability in the low temperature range also contributes for the screw high versatility in terms of possible applications.
Therefore, it is now safe to say that when using siFramo system in your project, it will benefit with a simple and effective assembly, by requiring only one type of screw which:
avoids confusions about what components to use for the connections

benefits the structure with high resistance to vibrations

is versatile and applicable to several external contexts and conditions
Coming up next - don't miss it:
Frame Manufacture with No HOT WORKS!
The siFramo has been used for pre-manufactured support frames, modules, plant skids and secondary pipe supports on many type of projects including Building Services, Chemical & Pharma, Data Centre, Power Generation & EfW, Manufacturing, Petrochemical, Oil and gas and finally Water and Utilities.
We have since gone on to design, build and deliver modules of all shapes and sizes all over Europe from our UK base, and all structures remain as they were designed and with all steel frame fastenings in place.
Believe it or not, we're still finding new ways to use our the siFramo system. Most recently, we have supplied site containers full of stock to aid the maintenance programs on several energy and chemical plants, where remedial and temporary supports can be made on site with no hot works, preventing shut down!
Are you interested in the siFramo system and want to know more about how it could benefit your project? Join the next Sikla UK siFramo webinar focussed in an introduction to the system, project and applications. Register now!