By Nigel Thompson on 19 January 2021
When it comes to planning primary and secondary steel supports on a pharmaceutical project, there is usually a significant amount of time planning and detailing the pipe services and supports by the client. When it comes to getting a state-of-the-art-manufacturing plant for a client who operates in many countries - delivering Bioscience, Diagnostic, Hospital and Bio supplies - the planning of pipework installation using a proprietary system such as siFramo has many benefits.
Save TIME & SPACE with Modular Steel
The Sikla siFramo system is a secondary steel replacement material/technology that may in some cases have higher initial costs than the traditional alternatives, but it will deliver a significant overall saving as well as many other benefits.

Accurately modelled bracketry during the design process allows for the off-site manufacture of the Sikla support system, saving precious site space for installation teams. The biggest benefit comes from the labour reduction required to install the system which is lighter in weight than conventional steel components and where each support frame is simply bolted together using a self-forming screw. This screw is the same size throughout and can be installed using a cordless impact wrench speeding up assembly time, ensures correct torque of every fixing and makes stocking different size screws a thing of the past and eliminates the need for the welding and painting of traditional supports.
Pipe shoe and guide assembly bolted in place modifications are easily made where small changes have little impact on what is a very flexible system, contrasting inflexible traditional steel that might need to be scrapped and other notable benefits include improved safety with the elimination of welding, drilling, and reduction of heavy lifting.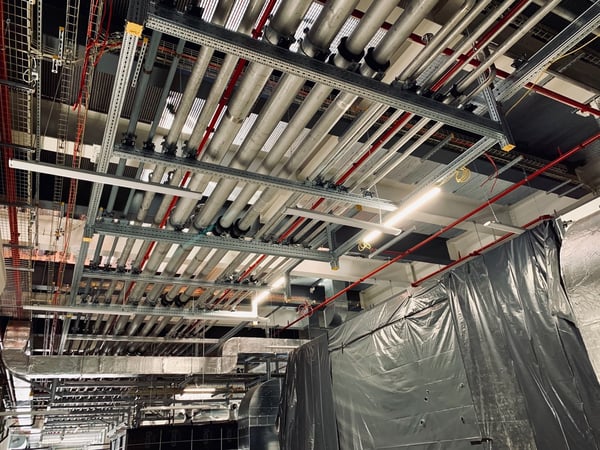 With early engagement with Sikla on projects like these, more time can be spent on planning the delivery and material preparation. This means that shipments can be supplied pre-cut, labelled, and packed for specific area of the constructions site with an emphasis on just-in-time-delivery minimizing storage space on site and removed the issues associated with double handling.
Adding Off-the-Shelf Pipe Supports
When it comes to the addition of pipe supports, Sikla have consolidated a comprehensive range of off-the-shelf pipe supports ranging from DN15-DN600 as standard including static supports, high temperature pipe shoes and insulated clamps for use chilled systems.
Our NEW "Industrial Pipe Supports" catalogue is available now and hard copies for engineering teams can be requested or downloaded from our DOWNLOADS page at sikla.co.uk.
Some typical Pharma services accommodated with Sikla supports: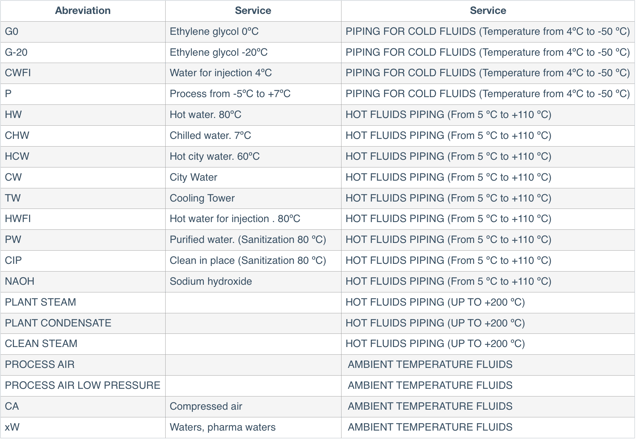 So, will you use Modular Steel in your next Pharma project?
Using the complete system (Primary & Secondary Pipe Supports) results in substantial efficiencies for the installation team!
Will you use it in your next project?
Check out this summary of siFramo Pros & Cons, it should make your decision easier: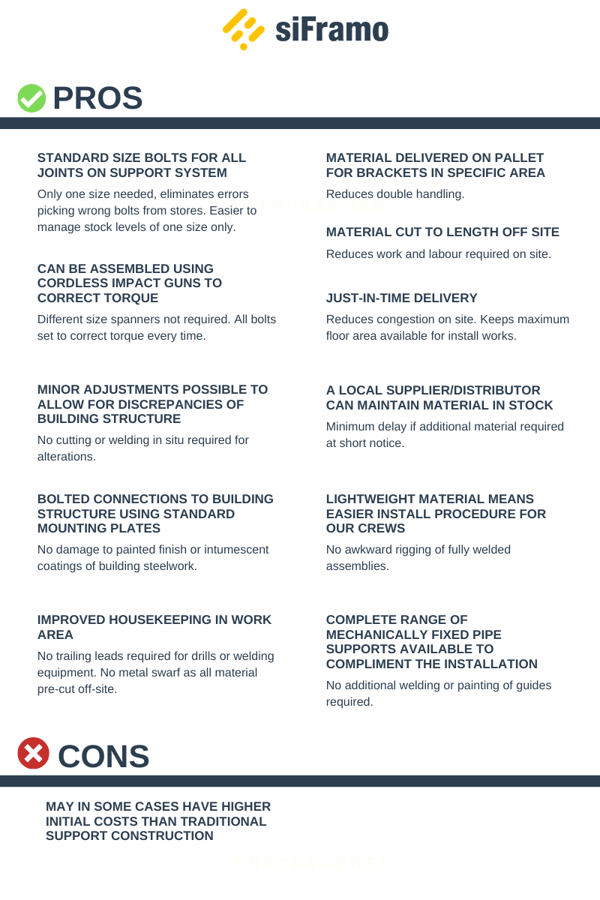 If you have further queries, contact our team now!