By Peter Walkden on 15 December 2020
Mining operations share a lot in common with other industrial applications but differ in key areas such as location and density of services. Sites can be remote leading to higher labour and logistics costs.
Typical Mechanical Services
Like many other projects resource mining requires power and piped services for operation which can include:
Wastewater treatment

Slurry Lines

Chemical Distribution

Power & Data Containment

Power Generation

Pumping Plant
Secondary Supports and Primary Structure
For mining sites the primary focus is on removing, sorting and refining the desired resource from the earth so Primary Structures are centred around the processing plant, which are connected through a series of pipe racks for piped and containment services. These structures are usually large section steel profile required to withstand not only the high loads but also any forces that may be transferred from the plant such as thrust loads from conveyors or water hammer in water pipes.

For larger pipes these are usually accounted for into the primary structural design but those small to medium NB pipes for other services can be left out and be site run from a range of typical pipe support details.
Drawback of site run supports
These would either have to be welded or bolted to the primary structure (unless a stand-alone frame) requiring on site measurement for either site run supports, or feedback to the pre-fabrication facility to amend any currently design structures.
This can lead to:
Requirement of permits for hot-works

Drilling of current primary members

Time loss due to amendment of frames

Increased schedule for site measurement
SiFramo Advantages
SiFramo was originally developed to provide maintenance crews the ability to replace or install new secondary supports in shutdown periods where time is of the essence. Teams wanted a solution that would remove the need for hot works (especially for sites using hazardous chemicals) but also added flexibility and adjustment which would allow for the current site conditions.

Shutdown work aims to keep the time for works to a minimum so SiFramo allowed for:
Reduce scheduling for pre-install measurement and fabrication drawings

Increased flexibility to accomodate existing services or clashes

Reduced time to fabricate and install supports

No hot works - reduced time and cost to apply for permits
Applications – Fixing to Primary Steelwork
One of SiFramo's key benefits is that it has no requirement for hot works or drilling to fix to primary structural members.
In most cases there is likely to be a Primary member in proximity to fix to and SiFramo has a solution with our MS 5P Assembly set. The product uses pairs of beam clamps in order to fix to the flange of a column or beam. The high clamping load provides ample shear capacity when used for applications applying load in the plan of the beam/column.

As this is a mechanical fixing the position is infinitely variable along the length of the primary member meaning it can be adjusted to the correct position and doesn't rely on pre-drilled holes.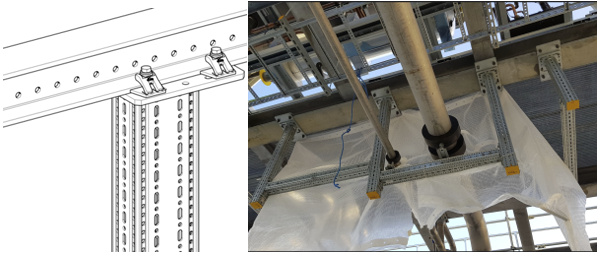 Remote locations – Cost increase for labour and freight
A number of mines in Australia are positioned in remote locations and as such have local airstrips for FIFO labour. For materials logistics can be challenging and labour costs high. One way this has been tackled is to employ pre-fabrication, so structures and equipment are shipped to site assembled ready for install, some in a plug and play type scenario.
SiFramo has been used for various projects in the past that have required pre-fabrication, whether that be a pipe module or plant skid. For those areas where design or installation is to be done on site the flexibility and adaptability of the system comes into it's own.
Another factor to consider is the logistics of such structures, both with the inherent cost of freight but also those additional charges for those heavy or oversized items which may require additional road closures.
SiFramo offers the ability to flat pack frames in a way which allows efficient transport while still reducing the onsite labour component. With kg/m rates for our section historically SiFramo frames are lighter than their steel section alternatives which can mean the secondary support package is less weight to transport.
Pre-fabrication
Frames can be pre-fabricated off site to dimensions which take into account some adjustment so that fine tweaking can be made once installed. An example of this would be a typical goalpost support where the columns are cut long enough to allow the cross member to move and down as required. Once delivered on site the Self-Forming Screws can be removed, the cross member moved to the correct position and the screws re-fixed into the column at the new height.
From a logistics perspective portal frames can be part assembled to allow for flat packing with only a small amount of final assemble at site.
Site fabrication
Material can be sent to site pre-cut in a kit format or even as full 6m beams and loose components for fabrication in the field. Beam sections are easily cut with a cold saw and the Self Forming Screws are driven using a standard Impact Wrench and 17mm Hex Socket. As there is only one type of screw no other nuts, bolts and washers are required, speeding up and simplifying fabrication.
Why should SiFramo be on your next project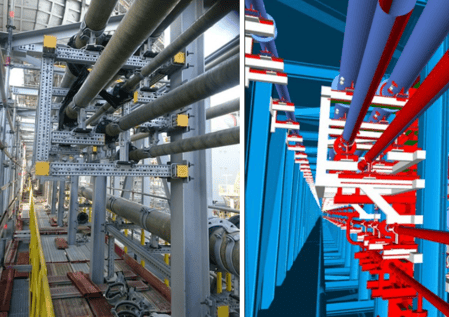 Historically, smaller bore pipework and other services aren't included within the primary design process and can be left for the installation contractor to implement as an addendum to their primary construction or fabricated on site.
SiFramo provides a cost effective solution to reduce labour time and cost without ever needing to drill or requiring hot works for installation, making it both safer and quicker. Through it adaptable design small bore pipe runs do not have to be designed which can inevitably blow out design cost and project schedules.

If you are interested in learning more about how SiFramo Modular Steel System can benefit your next project then contact our team for further details.