By Sikla UK Oceania on 05 October 2020
siFramo was first developed to allow pipe support frames for industrial projects. But this concept has grown. It soon became apparent that the application of the system benefit many other construction arrangements. This is the reason why today you can identify the yellow Sikla end caps in a variety of applications and industries. Read this article to find out more. Are you getting the most out of siFramo modular steel framing system? Or can you and your team start including it in a wider variety of upcoming projects?
Find the yellow end caps!
As introduced in detail in the previous articles, the siFramo branded system is a modular steel framing system, designed to make up support frames on-site or off-site, without a need for hot works. This steel framing system together with Sikla's pipe supports solutions can be integrated in early stages of your project.
Below are the main areas where we can support you with of a dedicated and experienced in-house team of designers and engineers: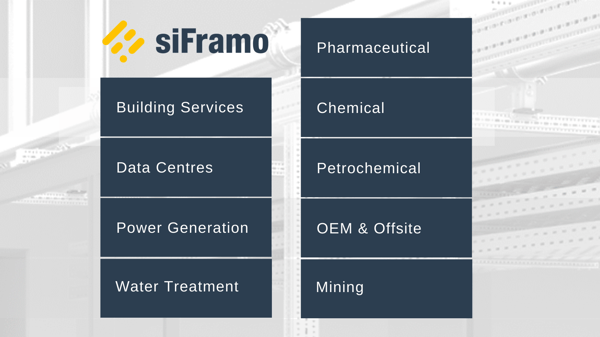 Power Generation (Electrical & Mechanical)

Water treatment

Pharmaceutical

Chemical

Petrochemical

OEM & Offsite


Is the scope of your next project one of the listed ones?
You can benefit from the versatility of our solutions and the availability of the products off-the-shelf. Allow Sikla - as a recognized branded product supplier - to be your one-stop-shop for modular steel structures and industrial pipework applications.
There is in fact a wide variety of applications for this system! Multi-service modules, plantrooms, roof top plant equipment, support frames, data centre modules, pipe bridges, shelters, access walkways & platforms are just some examples.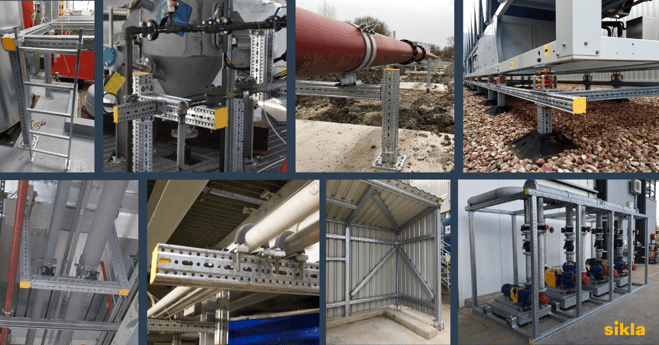 Examples of different applications. Find Sikla's yellow end caps!


"What about my project & industry specifics?"
Within the project scope you are dealing with, you might face typical challenges, need to correspond to specific quality standards or struggle to make last-minute adjustments. More common or more complex frames configurations, offsite assemblies, structural analysis requirements, software design integrations, etc.
We recognize the importance of supplying adjusted and often customized solutions and of looking into your project-specific requirements.
For this reason, during the following weeks, you will be offered with in-depth explanations, with one dedicated blog article related to each one of the main industries we work with.
Don't miss it!
Keep following our LinkedIn page and subscribe to our newsletter for the latest updates.
Finally, are you and your team interested in learning more about the Modular Steel Framing System siFramo?
Let us know: at Sikla we frequently run a Webinar about the topic and are available to offer your staff and engineering teams a CPD training about it!